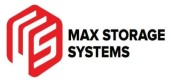 Welcome To Max Storage Systems
About Us
We are end to end business solution providers.- Max Storage Systems
Max Storage Systems is a manufacturing company of the storage systems for the industrial and commercial Sector. The Company has 10 years of expertise in manufacturing of storage compactor, such as heavy duty storage racks and all types of storage equipment. Being an ISO 9001:2015, OHSAS:18001 certified company, it provides services from designing, manufacturing to supplying and installation. Max Storage system supplies standard and customized product ranges with excellent finishing.
Why Choose Us?
+ MAX STORAGE SYSTEMS is India's leading manufacturer, designer and installer of high-density storage, racking and shelving systems.
+ Our company is highly dedicated to assisting our customer in the management of floor space with fulfillment of the business needs. We look for the solution, how effectively a company can perform operations by providing an intelligent, organized, bespoke storage and racking system.
+ If you are in search of the smart racking system or reliable storage supplier in India,then you are at the right place.
+ Well organized warehouse can save storage costs up to 50%, which is significant cost saving as it improves staff efficiency, frees up more space, and supports damage control of the products.
+ We do have a set of standard ranges of the Heavy Duty Racks, Mobile Compactor Storage System, Pallet Racks, Mezzanine Floor, Slotted Angle Racks, Industrial Lockers/Store Well, Staff Lockers etc. Along with this our team of technicians and professionals provides customized racking, storage and filling solutions which achieve all your inventory management needs.
+ Our technicians not only focused on preconceived ideas or recommendations but also involved in deep analysis, technically advanced drawings and designs. Once the design is finalized, we proceed with the manufacturing activities. All the storage and racking systems are designed considering the smooth business operation, rapid payback, longevity of the performance and annual cost reduction.
+ Max storage system has representation through Pune, Maharashtra. For more details call our sales representative. Mob. 9975624219
+ Some key products that Max Storage System supplies are:

Storage (Including Mobile Storage
Racking
Shelving (Office Shelving)
Government Procurement Service Solutions
Space Efficiency
Archive Storage
Our Values
Our aim is to maintain the highest standards for the equipment, product delivery, and customer satisfaction. We believe in protecting culture and values not only for doing business or customer interaction but also with our fellow colleagues. Few of our fundamental principles that govern everything we do:


Honesty & Integrity
Respect for people
Customer focus
Commitment towards services
The driving for long term success

These nurtured values provide high energy and vibration to our people. The company has the best engineers, who know market trends and understanding of the customers needs. Thus, are able to serve the best customer services.
Birth of the Max Storage System
The company owner and founder is always passionate about the development of the creative solutions in the warehouse and inventory management. He always keeps himself busy in finding cost effective, smart , and flexible storage hacks. Mr.Arjun Bansode started his career as Technician Engineer in one of the reupped companies. Over the period of time, he has realized that his understanding of the storage and racking manufacturing is helping customers in the inventory management and fulfilling their business needs. Then, he had a thought of building his own business brand in the storage and equipment industry. After all the research, licensing, and other formalities, he started his own brand in the storage equipment and manufacturing industry as Max Storage System. The brand is started with the objective of :


Providing international quality standard industrial storage products
On site Installation and post sales services
100% customer satisfaction
Company Profile
Mr.Arjun Bansode
Company CEO : Proprietor-
01/01/2018
Company Founded/ Year of Establishment -
Manufactures and Suppliers
Nature of Business :