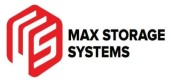 We, Max Storage Systems are one of the best leading Heavy Duty Pallet Racks Manufacturer and Supplier in Pune, Mumbai, and Maharashtra, India. We provide a wide range of products which include Heavy Duty Pallet Racks, Industrial Storage Racks, Compact Storage System, Mobile Compactors Storage System, Digital Storage Systems, Material Storage Racks, Heavy Duty Racks, File Compactors Storage System, Vertical Carousels, Long Span Pallet Racks, Storage System, etc.
Product Details:
| | |
| --- | --- |
| Storage Capacity | Customizable as per Client's Requirement |
| Height | Customizable as per Client's Requirement |
| Color | Conventionally Orange and Blue; however customizable as per client 's requirement |
| Size (length x Width) | Customizable as per Client's Requirement |
| Brand | Max Storage Systems |
| Material | MS/SS/GI |
| Surface Finishing | Painted or Powder Coated for MS |
Enquiry Now
Why Choose Us For Heavy Duty Pallet Racks?
Max Storage Systems can provide Heavy Duty Pallet Racks drawings and will work with you throughout the design process to insure that you get the system that best suits your needs. Certifiable drawings can be made available when necessary for local permits.
We have an in-house fabrication facility and can fabricate Heavy Duty Pallet Racks material handling equipment when off-the-shelf products are not the best solution. System is designed for easy assembly of the components or dismantling without any skilled force. This is to provide easy adjustment of loading levels for the different size loads.
The sections of the upright & load beams vary with the load & span. The maximum height of the unit depends on the type retrieval & storage i.e. manual or with stacker, forklift etc. When material handling equipments are used then height of system will depend on the reach of the material handling equipment. This system is suitable for any industry having heavy loads to be stored.
Uses of Heavy Duty Pallet Racks:
We are offering good quality Heavy Duty Pallet Racks which are widely used in Food & Beverage Industry, Dairy Industry, Chemical Industry, Sanitation Industry, Electronic Industry etc. These racks have the highest load carrying capacity and have longer functional life. It is suitable for the storage of goods, which are taken out and stored frequently. Racks are available in customized as well as standardized sizes.
Features of Heavy Duty Pallet Racks:
Comprises of two frame work one vertical and other horizontal
Used for storing Raw materials and finished goods at the stores and godowns
Available in all required sizes
Rigid Structure
Superior Quality
High load bearing capacity
Selective Material Storage System
Can bear the U.D.L. load capacity of 0.5Tons - 3 Tons per loading levels