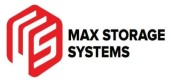 Slotted Angle Rack is an irreplaceable product that every industry own. Due to their properties, robustness and reliability, they can make a great impact on product management, create extra room for storing goods and ensure better productivity. These racks can be moved and managed with the help of a forklift.Noted among top-tier Slotted Angle Rack Manufacturers in India, Max Storage Systems has solutions to resolve your storage requirements of warehouses, production units, industrial facilities and more.
Being one of the trusted Slotted Angle Rack Manufacturers in India, we use the finest quality material to design and deliver a plethora of options to our customers. You can browse our website and place your order according to your preferences.
Our name considered the best among top Industrial Slotted Angle Racks Suppliers in India. Delivering you nothing but the quality is our promise to you, and we never make any compromise in the same.